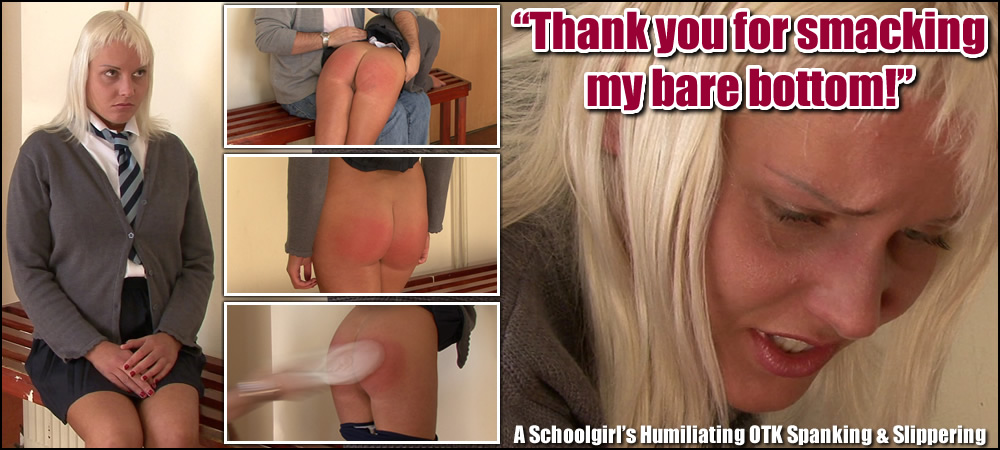 Russian exchange student Alexandria had never been punished like this before. She didn't know what to expect and thought the whole process was a little amusing...that was until she was told to drop her regulation knickers and take the first spanking across her bare quivering bottom! This is a 2 part punishment and becasue of her continuing giggling she is slippered stood upright giving her teacher maximum gaze to view all that she was made of as well as being humiliated by being forced to say "thank you for smacking my bare bottom!" A very cute girl with an equally cute Russian accent that is a "must have" for collectors of schoolgirl punishment erotica!
===============================================
LEGAL DISCLAIMER – ALL MODELS ON THIS SITE ARE OVER THE AGE OF 18 (EIGHTEEN)

This Site deals with Adult School Dress Fantasy only. This Site DOES NOT portray any models who appear to be
under the legal age of 18 (EIGHTEEN). All models depicted in this web site were & are OVER THE AGE OF 18 (EIGHTEEN).
Content within this Site is for viewing by ADULTS over the age of 18 only - NO PERSONS ON THIS SITE
WERE UNDER THE AGE OF 18 (EIGHTEEN) at the time of Production of All ADULT material held in this Site.

THIS SITE IS AGAINST ALL FORMS OF CHILD ABUSE!
===============================================