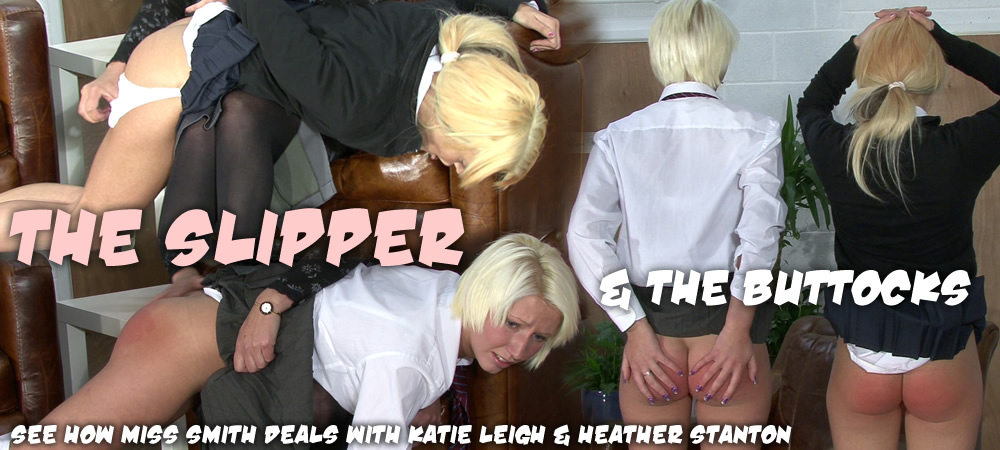 Heather & Katie are waiting for their detention punishment at the hands of Miss Smith! These girls were caught bullying others and in Miss Smith's school this is a slippering offense for the guilty perpetrators! The girls can offer no decent explanation and try to lie their way out of the spanking and slippering but this only infuriates Miss Smith who thrashes both girls together side by side with the slipper after making them both watch each other get a bare bottom spanking! This double schoolgirl punishment film is over 16 minutes long & stars 2 naughty teenage girls getting what they deserve! Very sore red buttocks! Now available to add to your collection of discipline erotica!
===============================================
LEGAL DISCLAIMER – ALL MODELS ON THIS SITE ARE OVER THE AGE OF 18 (EIGHTEEN)

This Site deals with Adult School Dress Fantasy only. This Site DOES NOT portray any models who appear to be
under the legal age of 18 (EIGHTEEN). All models depicted in this web site were & are OVER THE AGE OF 18 (EIGHTEEN).
Content within this Site is for viewing by ADULTS over the age of 18 only - NO PERSONS ON THIS SITE
WERE UNDER THE AGE OF 18 (EIGHTEEN) at the time of Production of All ADULT material held in this Site.

THIS SITE IS AGAINST ALL FORMS OF CHILD ABUSE!
===============================================