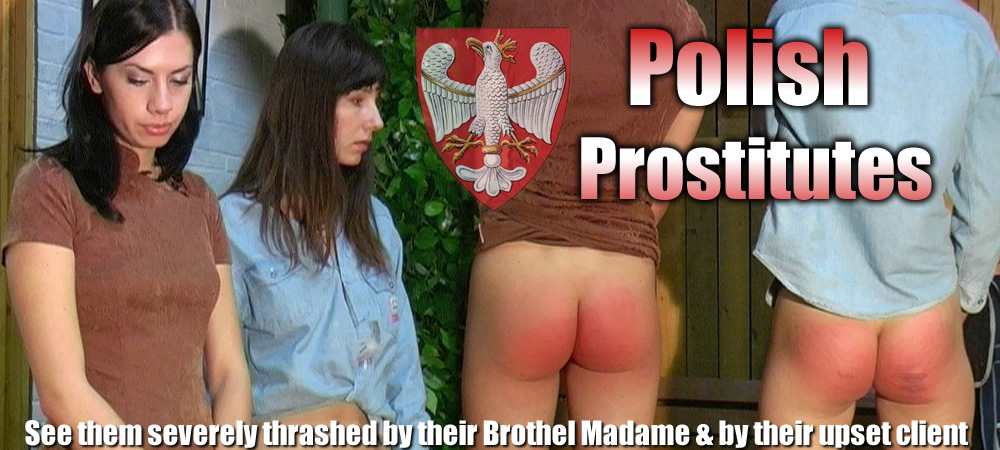 Angelina & Caroline are 2 highly sought after Polish prostitutes - as many clients believe they will do more dirty things for their money! Miss Valkerie hears from their last client who complained about them saying that he was "too dirty" and refused to perform certain sexual acts. She was annoyed and immediately spanked both girls really hard on their bare bottoms making them plead for her to stop! However, Caroline (in blue) got them into further trouble with her continued arrogance so Miss Valkerie allows the client to come in and thrash the girls with a nasty leather strap & caning both girls until they were close to tears! To add further humiliation, their brothel madame was going to allow her client a free hour with the girls afterwards to teach them that it is HER that decides what goes on in the brothel and not them! This spanking classic is at last available as a special one off download and comes complete with a full zipped image set! A "must see" to add to your essential hardcore spanking linbrary!
===============================================
LEGAL DISCLAIMER – ALL MODELS ON THIS SITE ARE OVER THE AGE OF 18 (EIGHTEEN)

This Site deals with Adult School Dress Fantasy only. This Site DOES NOT portray any models who appear to be
under the legal age of 18 (EIGHTEEN). All models depicted in this web site were & are OVER THE AGE OF 18 (EIGHTEEN).
Content within this Site is for viewing by ADULTS over the age of 18 only - NO PERSONS ON THIS SITE
WERE UNDER THE AGE OF 18 (EIGHTEEN) at the time of Production of All ADULT material held in this Site.

THIS SITE IS AGAINST ALL FORMS OF CHILD ABUSE!
===============================================