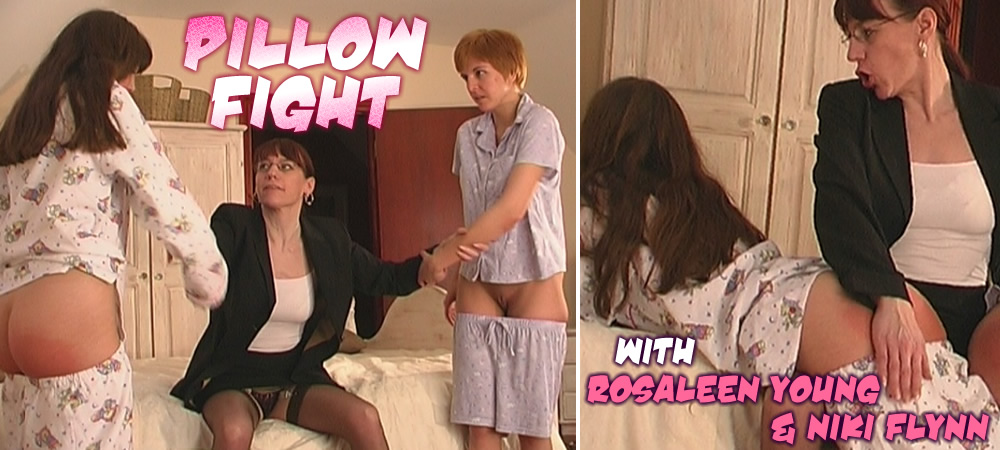 Rosaleen & Niki started to have a pillowfight which soon got out of control and their noise disturbed their Dorm Mistress, Miss van Dyer, who interrupted the girls mid fight! Without offering a decent explanation as to why they were fighting instead of preparing themselves for an early night, Miss van Dyer takes each girl over her knee for a quick PJ bottoms down spanking before slippering the girls. Then they were spanked together to fully ensure they got the message that bedtime was a time for young ladies to catch up on their beauty sleep rather than act like gutter trash! See how they are dealt with in this Special F/F Discipline Collectors Edition to download & keep.
===============================================
LEGAL DISCLAIMER – ALL MODELS ON THIS SITE ARE OVER THE AGE OF 18 (EIGHTEEN)

This Site deals with Adult School Dress Fantasy only. This Site DOES NOT portray any models who appear to be
under the legal age of 18 (EIGHTEEN). All models depicted in this web site were & are OVER THE AGE OF 18 (EIGHTEEN).
Content within this Site is for viewing by ADULTS over the age of 18 only - NO PERSONS ON THIS SITE
WERE UNDER THE AGE OF 18 (EIGHTEEN) at the time of Production of All ADULT material held in this Site.

THIS SITE IS AGAINST ALL FORMS OF CHILD ABUSE!
===============================================