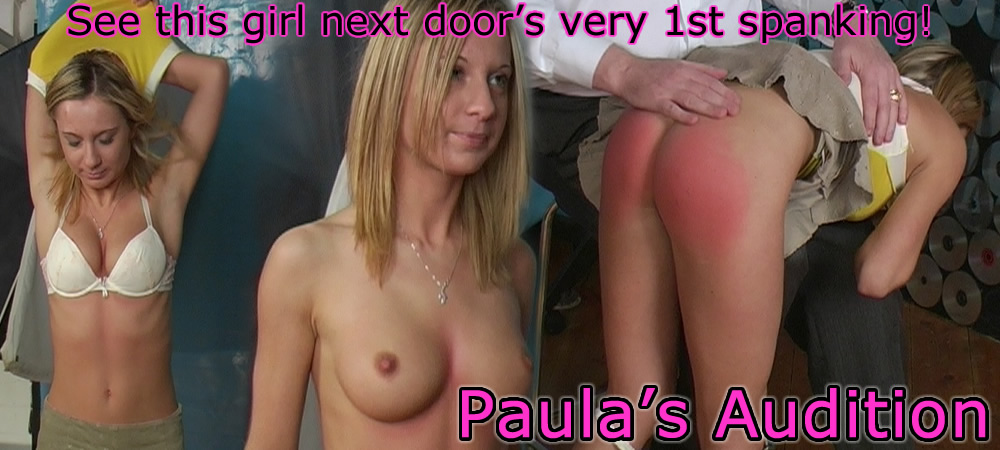 Every now and then it is a real pleasure to be able to audition that perfect girl next door type, the sort of girl in need of a little extra cash that would like to try out for a Spanking Production Film Shoot! So here we see Paula, a gorgeous 18 year old Polish girl living & working in London, England, as a Coffee Barista who answers our advert for spanking model auditions! What we were surprised about was the way she took to the spanking after being a little nervous, she soon had the cameramen gasping in disbelief as you will too - Seeing this petite thing take her very first spanking and leather strapping and you'll not believe how red her bottom becomes as this is filmed! It has to be seen to be believed, turning a beautiful cherry red within minutes! This is not the harshest of spankings but what it lacks in severity, makes up for in the beautiful colouring this pert Polish beauty possesses on her tushy!
!! For this alone it is another MUST SEE for collectors of fine teenage spankming erotica !!
===============================================
LEGAL DISCLAIMER – ALL MODELS ON THIS SITE ARE OVER THE AGE OF 18 (EIGHTEEN)

This Site deals with Adult School Dress Fantasy only. This Site DOES NOT portray any models who appear to be
under the legal age of 18 (EIGHTEEN). All models depicted in this web site were & are OVER THE AGE OF 18 (EIGHTEEN).
Content within this Site is for viewing by ADULTS over the age of 18 only - NO PERSONS ON THIS SITE
WERE UNDER THE AGE OF 18 (EIGHTEEN) at the time of Production of All ADULT material held in this Site.

THIS SITE IS AGAINST ALL FORMS OF CHILD ABUSE!
===============================================