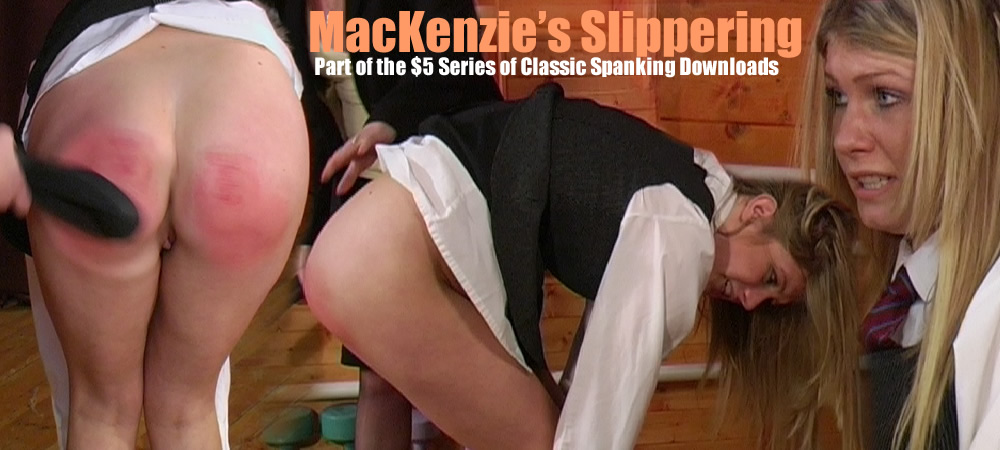 Ashleigh MacKenzie reported to Miss Bradley for her after school detention, knowing that she was going to be slippered! The poor girl was a nervous wreck as she had heard many a girl cry and sob from the sheer pain of getting whacked so hard with the heavy plimsoll! What you'll see is Ashleigh take one of her hardest punishments and you can see the genuine pain she endures and the tears welling up in her eyes as the slipper is whacked down hard on her bared quivering cheeks! This movie is part of the current series of films priced at just $5.00. This is an excellent movie download & to keep our prices as low as possible this contains only the movie without the usual image set - This is the 5th in a series of 10 films priced at this low price for you to add to your Spanking Library!
===============================================
LEGAL DISCLAIMER – ALL MODELS ON THIS SITE ARE OVER THE AGE OF 18 (EIGHTEEN)

This Site deals with Adult School Dress Fantasy only. This Site DOES NOT portray any models who appear to be
under the legal age of 18 (EIGHTEEN). All models depicted in this web site were & are OVER THE AGE OF 18 (EIGHTEEN).
Content within this Site is for viewing by ADULTS over the age of 18 only - NO PERSONS ON THIS SITE
WERE UNDER THE AGE OF 18 (EIGHTEEN) at the time of Production of All ADULT material held in this Site.

THIS SITE IS AGAINST ALL FORMS OF CHILD ABUSE!
===============================================