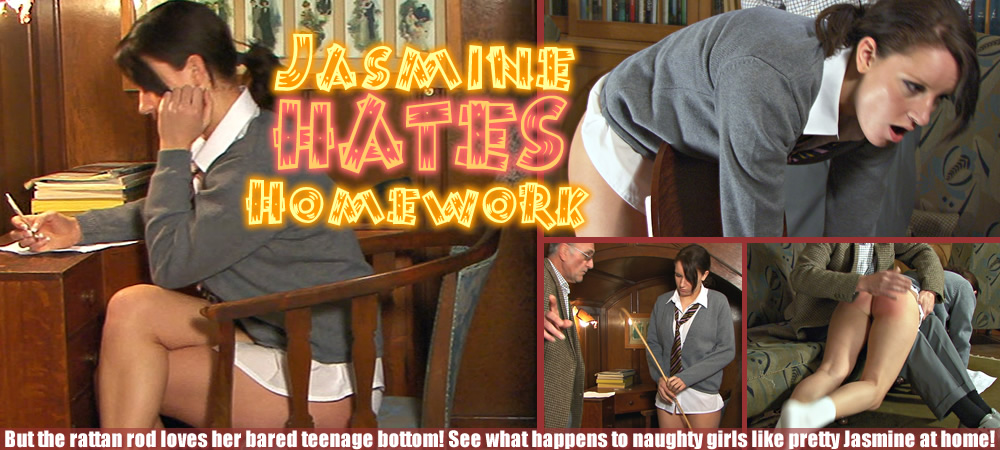 Pretty teenager Jasmine has been lying about the amount of homework she has been doing! She'd rather be out
or loaf about texting friends or reading magazines since her internet privileges were removed...However, her lazy attitude is about to be found out from the latest school reports showing that Jasmine hasn't been putting in the hours like any normal girl her age! Time for some calm words and some swift action and it's not long before her white knickers are removed and she is being spanked on her bare bottom! Worse was to come as she was set a task to do some work but failed miserably and this time it meant the cane, and some stinging swats across her already throbbing cheeks! This should ensure Jasmine thinks twice about being a lazy good for nothing around the house! This film comes with a full set of Hi Res movie images for lovers of this girl taking a severe punishment!
===============================================
LEGAL DISCLAIMER – ALL MODELS ON THIS SITE ARE OVER THE AGE OF 18 (EIGHTEEN)

This Site deals with Adult School Dress Fantasy only. This Site DOES NOT portray any models who appear to be
under the legal age of 18 (EIGHTEEN). All models depicted in this web site were & are OVER THE AGE OF 18 (EIGHTEEN).
Content within this Site is for viewing by ADULTS over the age of 18 only - NO PERSONS ON THIS SITE
WERE UNDER THE AGE OF 18 (EIGHTEEN) at the time of Production of All ADULT material held in this Site.

THIS SITE IS AGAINST ALL FORMS OF CHILD ABUSE!
===============================================