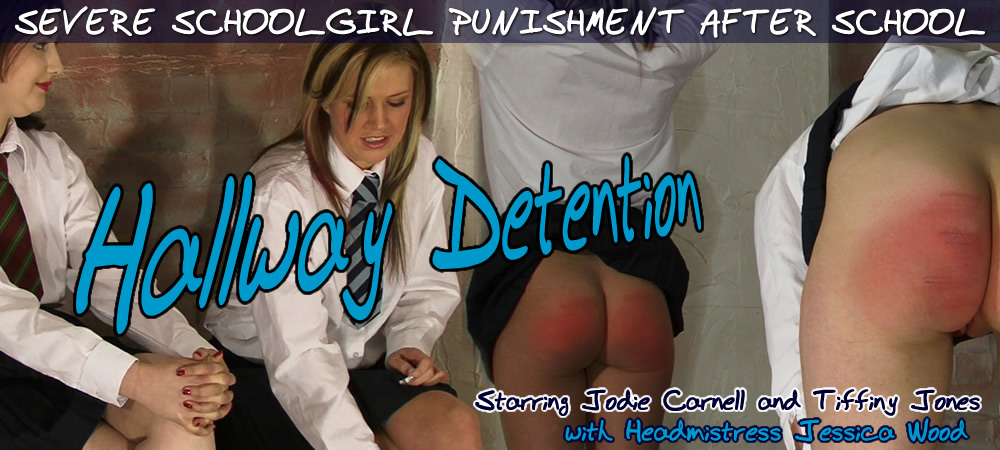 Tiffiny tries to reassure Jodie that her very first punishment won't be so bad, but she knows deep down that
Miss Wood canes hard (it's her way) so is trying to help her friend as they both wait nervously in the hallway. Both girls offer little in their explanation as to why they are there for Detention and Miss Wood is unimpressed so as a foretaste for new girl Jodie, she is forced to watch naughty Tiffiny spanked over the knee before getting the same treatment herself. Both girls are then caned, however, Tiffiny's constant backchat earns her some very SEVERE strokes of Rattan at the end of this fascinating double schoolgirl discipline session! It is worth noting that this was Jodie Carnell's very first schoolgirl punishment film, looking gorgeous in uniform and is HIGHLY Recommended!
===============================================
LEGAL DISCLAIMER – ALL MODELS ON THIS SITE ARE OVER THE AGE OF 18 (EIGHTEEN)

This Site deals with Adult School Dress Fantasy only. This Site DOES NOT portray any models who appear to be
under the legal age of 18 (EIGHTEEN). All models depicted in this web site were & are OVER THE AGE OF 18 (EIGHTEEN).
Content within this Site is for viewing by ADULTS over the age of 18 only - NO PERSONS ON THIS SITE
WERE UNDER THE AGE OF 18 (EIGHTEEN) at the time of Production of All ADULT material held in this Site.

THIS SITE IS AGAINST ALL FORMS OF CHILD ABUSE!
===============================================