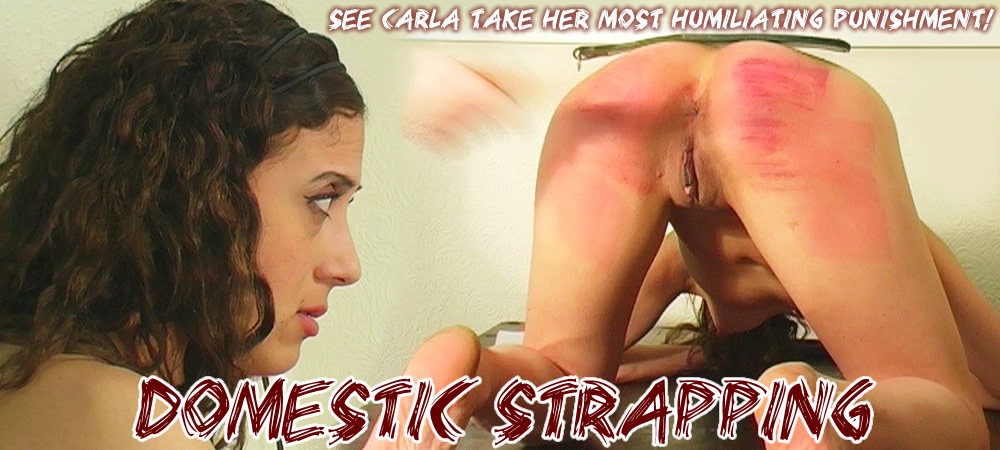 Living in London for students isn't cheap nowadays! So when Italian student, Carla, answered an Ad in the local newspaper for a domestic maid with higher than average pay, she was surprised to get the job but soon realised that there was a downside for failing to clean properly! She had been chosen because she had admitted to her employer that she was naturally submissive, which was just the sort of compliant female he wanted & he then found any excuse to thrash her & she took every punishment until he trusted her with the Housekeeping Money
& she stole from him! Already caned twice hard that week, he confronted Carla with the latest revelation & decided to push her to her limits in this shocking film which sees the wretched girl humiliated & stripped of her dignity whilst receiving some of the hardest bare bottom strappings ever filmed across a severely welted bottom. Also includes hard hand strappings! - This is one movie you should not miss & comes very highly recommended!
===============================================
LEGAL DISCLAIMER – ALL MODELS ON THIS SITE ARE OVER THE AGE OF 18 (EIGHTEEN)

This Site deals with Adult School Dress Fantasy only. This Site DOES NOT portray any models who appear to be
under the legal age of 18 (EIGHTEEN). All models depicted in this web site were & are OVER THE AGE OF 18 (EIGHTEEN).
Content within this Site is for viewing by ADULTS over the age of 18 only - NO PERSONS ON THIS SITE
WERE UNDER THE AGE OF 18 (EIGHTEEN) at the time of Production of All ADULT material held in this Site.

THIS SITE IS AGAINST ALL FORMS OF CHILD ABUSE!
===============================================