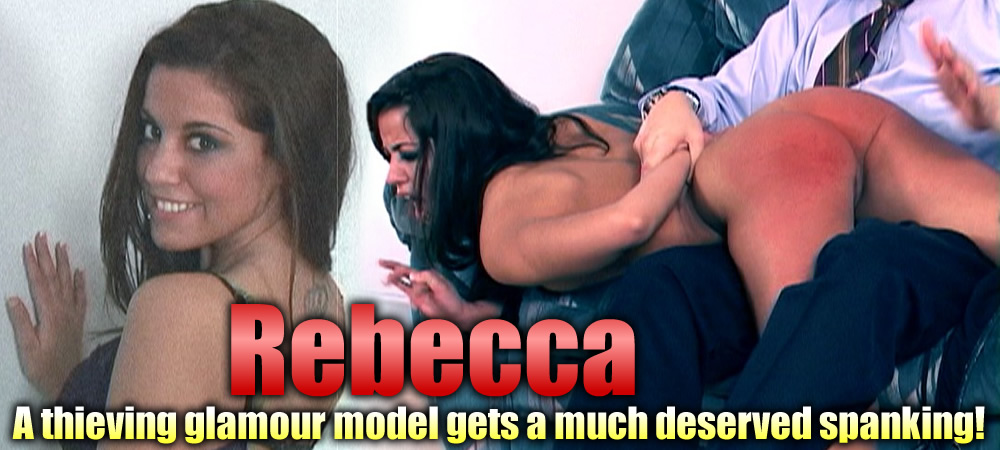 She goes by the name of Rebecca... but, she ain't from no Sunnybrook Farm. Indeed when this Rebecca's in the room you best keep a sharp eye out for your valuables. Needless to say our photographer was not at all pleased.
Moreover, he was quick to make his displeasure felt, where it would do the most good, making her regret ever thinking about stealing his hard earned cash & took it out on her pert derriere! Hear her yelp and see this uppity brat get one of the most deserved spankings ever carried out on a thieving girl's bare quivering backside!
Another stunning hard relentless OTK spanking of a tearful glamour model to add to your growing collection.
===============================================
LEGAL DISCLAIMER – ALL MODELS ON THIS SITE ARE OVER THE AGE OF 18 (EIGHTEEN)

This Site deals with Adult School Dress Fantasy only. This Site DOES NOT portray any models who appear to be
under the legal age of 18 (EIGHTEEN). All models depicted in this web site were & are OVER THE AGE OF 18 (EIGHTEEN).
Content within this Site is for viewing by ADULTS over the age of 18 only - NO PERSONS ON THIS SITE
WERE UNDER THE AGE OF 18 (EIGHTEEN) at the time of Production of All ADULT material held in this Site.

THIS SITE IS AGAINST ALL FORMS OF CHILD ABUSE!
===============================================