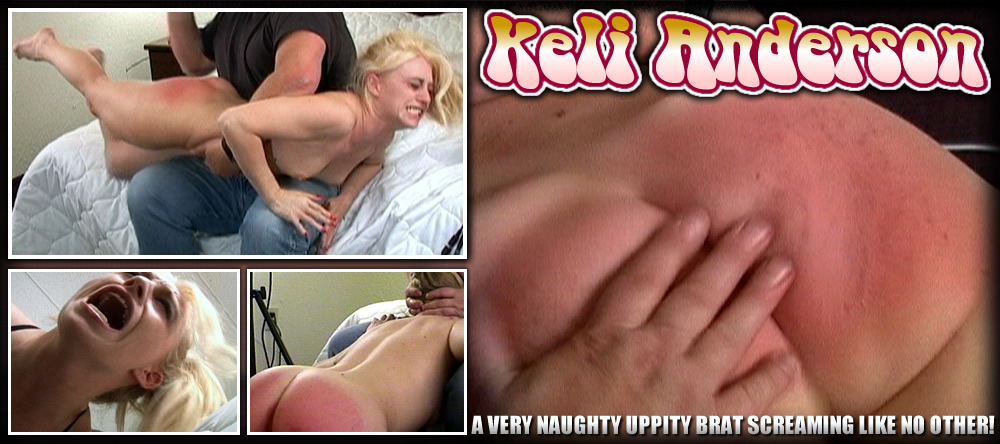 It was a frigid morning when this bewitching little blonde crossed the motel location doorstep but the chill that followed her in had little to do with the weather. "I hate mornings and I'm in no mood for any of your shit", Keli announced to Terry the photographer. Keli's behavior got no better when they started the film shoot but on the plus side, Keli looked every bit as good as her modeling portfolio so at least there were some fine images taken. Unfortunately this brat proved utterly lacking in all social graces & anything resembling motivation. That's when Terry wisely elected to put down her camera & pick up the phone whereupon she consulted with the BBF talent director. Happily he was but a short drive away.
No sooner did his eyes fall upon this pouty faced little slut than he knew precisely how to proceed. Ms. Anderson's naked butt cheeks bouncing & wobbling under robust retribution presented a decidedly more agreeable visual for all and sundry. No less pleasing was the clean crisp sound produced each time his calloused palm found its mark with unerring accuracy. Admittedly this diva's singing could have been better. Off key, high pitched, strident & overloud - or perhaps just screaching like a cat! Instead, the overall presentation was simply marvellous! Best of
all this "entertainment" would continue without pause or intermission for nearly 20 solid butt blistering minutes.
===============================================
LEGAL DISCLAIMER – ALL MODELS ON THIS SITE ARE OVER THE AGE OF 18 (EIGHTEEN)

This Site deals with Adult School Dress Fantasy only. This Site DOES NOT portray any models who appear to be
under the legal age of 18 (EIGHTEEN). All models depicted in this web site were & are OVER THE AGE OF 18 (EIGHTEEN).
Content within this Site is for viewing by ADULTS over the age of 18 only - NO PERSONS ON THIS SITE
WERE UNDER THE AGE OF 18 (EIGHTEEN) at the time of Production of All ADULT material held in this Site.

THIS SITE IS AGAINST ALL FORMS OF CHILD ABUSE!
===============================================