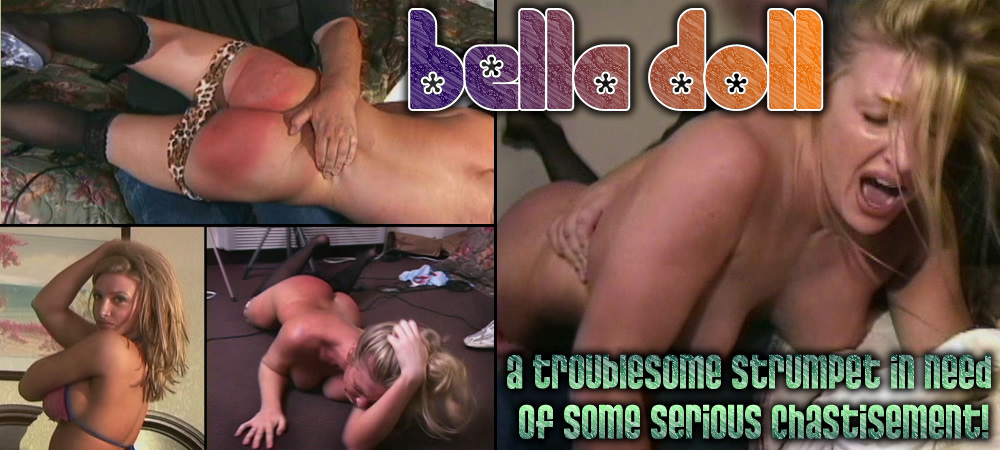 This one named herself after a doll and she sure looks like one too. Only problem here is that Bella's manners are more in keeping with those of a voodoo doll. That's okay though. After all, when ill-behaved young women come shaped like this one it's always a pleasure to get to the bottom of the problem. And what a fine bottom it be!

Smooth, firm and finely toned this bottom is indeed a testament to the benefits of frequent and vigorous exercise. Today we saw fit to ensure that it would benefit from some especially vigorous training albeit of a rather more appropriate nature. Indeed our designated physical trainer, if you will, spared no effort in giving Miss Doll's sleek posterior the workout of a lifetime! "No pain, no gain" they say but happily Bella's vocalizations clearly indicate that there's a boatload of gain going down today. Duly encouraged, our man ramps up the intensity all the more.
We have only to observe the healthy, florid red, flush of the woman's cheeks (all four of them actually) to be suitably impressed by the effectiveness of this workout. WARNING: This girl's a screamer and a blubber!
===============================================
LEGAL DISCLAIMER – ALL MODELS ON THIS SITE ARE OVER THE AGE OF 18 (EIGHTEEN)

This Site deals with Adult School Dress Fantasy only. This Site DOES NOT portray any models who appear to be
under the legal age of 18 (EIGHTEEN). All models depicted in this web site were & are OVER THE AGE OF 18 (EIGHTEEN).
Content within this Site is for viewing by ADULTS over the age of 18 only - NO PERSONS ON THIS SITE
WERE UNDER THE AGE OF 18 (EIGHTEEN) at the time of Production of All ADULT material held in this Site.

THIS SITE IS AGAINST ALL FORMS OF CHILD ABUSE!
===============================================