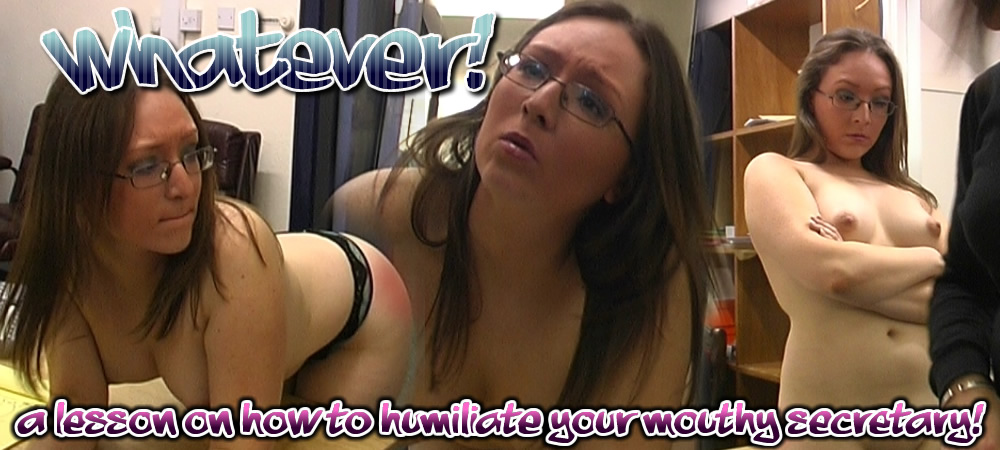 Sabrina is the type of girl that never knows when to keep her big trap shut and once again her foul mouth and street attitude gets her into trouble with feisty office manager Elizabeth Simpson who doesn't take crap off any office junior! Miss Simpson soon puts this tramp in her place with her own retorts and infamous acid tongue as Sabrina's replies of "whatever!" to why she's in trouble and why she's going to get punished, stripped naked and strapped makes this all the more satisfying for Miss Simpson as she's been itching to bring down this hussy for
quite a while! See how a bad girl gets dealt with in this remastered F/F Discipline Collectors Edition.
===============================================
LEGAL DISCLAIMER – ALL MODELS ON THIS SITE ARE OVER THE AGE OF 18 (EIGHTEEN)

This Site deals with Adult School Dress Fantasy only. This Site DOES NOT portray any models who appear to be
under the legal age of 18 (EIGHTEEN). All models depicted in this web site were & are OVER THE AGE OF 18 (EIGHTEEN).
Content within this Site is for viewing by ADULTS over the age of 18 only - NO PERSONS ON THIS SITE
WERE UNDER THE AGE OF 18 (EIGHTEEN) at the time of Production of All ADULT material held in this Site.

THIS SITE IS AGAINST ALL FORMS OF CHILD ABUSE!
===============================================