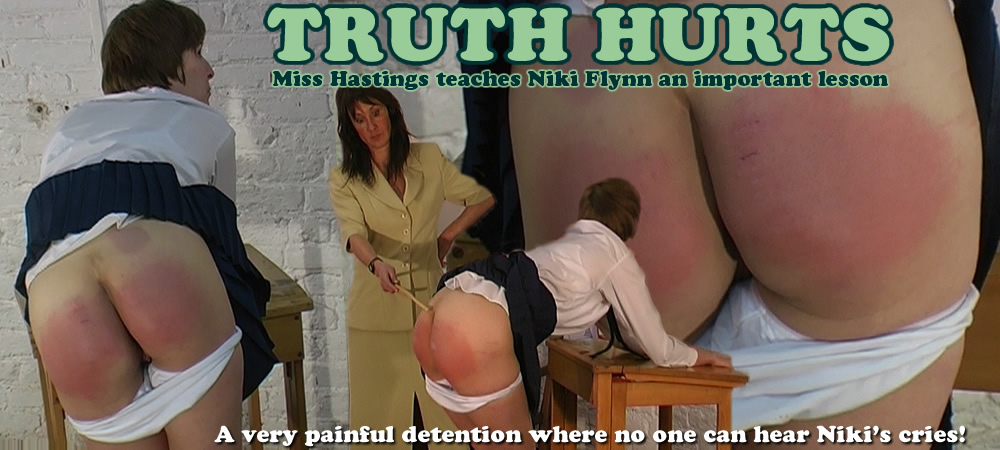 Niki Flynn is in Detention for her poor homework & Miss Hastings wants to know why she is failing so badly. But even trying to get a straight answer out of Niki, who seems to be in denial about her poor work, only succeeds in annoying Miss Hastings who decides to thrash Niki with her hand, the strap & ultimately her thick rattan cane! Perhaps this will teach Miss Flynn that lying will not be tolerated! This movie has some fantastic scenes of Niki taking a severe strapping & caning that would make many a girl buckle & cry in shame! See Niki take one of her hardest punishments after school! This new Schoolgirl Punishment Collector's Edition out now to download today!
===============================================
LEGAL DISCLAIMER – ALL MODELS ON THIS SITE ARE OVER THE AGE OF 18 (EIGHTEEN)

This Site deals with Adult School Dress Fantasy only. This Site DOES NOT portray any models who appear to be
under the legal age of 18 (EIGHTEEN). All models depicted in this web site were & are OVER THE AGE OF 18 (EIGHTEEN).
Content within this Site is for viewing by ADULTS over the age of 18 only - NO PERSONS ON THIS SITE
WERE UNDER THE AGE OF 18 (EIGHTEEN) at the time of Production of All ADULT material held in this Site.

THIS SITE IS AGAINST ALL FORMS OF CHILD ABUSE!
All model records are held on file for inspection
===============================================