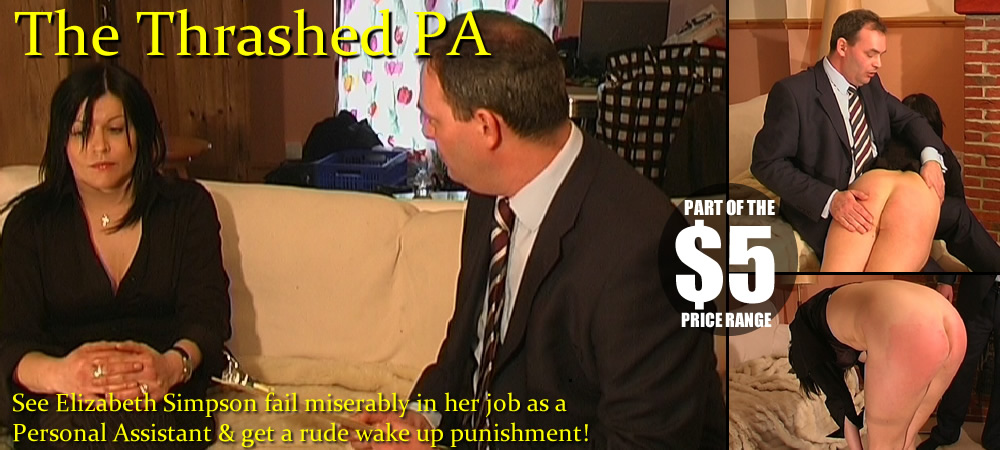 Elizabeth Simpson is back with one of her personal favorite films she enjoyed making! This film reflects a true life event in her early career years as she set out to become a P.A. (Personal Assistant). You will quickly see what a mess she makes of her new boss' diary and he soon has other plans, most notably concerning her rounded bottom, that he believes needs a damn good thrashing! Don't miss some great dialogue, a shameful Elizabeth quickly subdued & made to comply with her boss' wishes to spank, strap then cane her bare bottom til his anger has subsided! This movie is the 1st in a new range of best value movies to download & keep, carefully chosen by our team to ensure you have the best movies at the best possible price. To keep our prices as low as possible this download only contains the actual movie without the usual image set - This is the 4th of 10 films priced at just $5.00 to give you the choice of what to add to your growing Spanking Library!
===============================================
LEGAL DISCLAIMER – ALL MODELS ON THIS SITE ARE OVER THE AGE OF 18 (EIGHTEEN)

This Site deals with Adult School Dress Fantasy only. This Site DOES NOT portray any models who appear to be
under the legal age of 18 (EIGHTEEN). All models depicted in this web site were & are OVER THE AGE OF 18 (EIGHTEEN).
Content within this Site is for viewing by ADULTS over the age of 18 only - NO PERSONS ON THIS SITE
WERE UNDER THE AGE OF 18 (EIGHTEEN) at the time of Production of All ADULT material held in this Site.

THIS SITE IS AGAINST ALL FORMS OF CHILD ABUSE!
===============================================