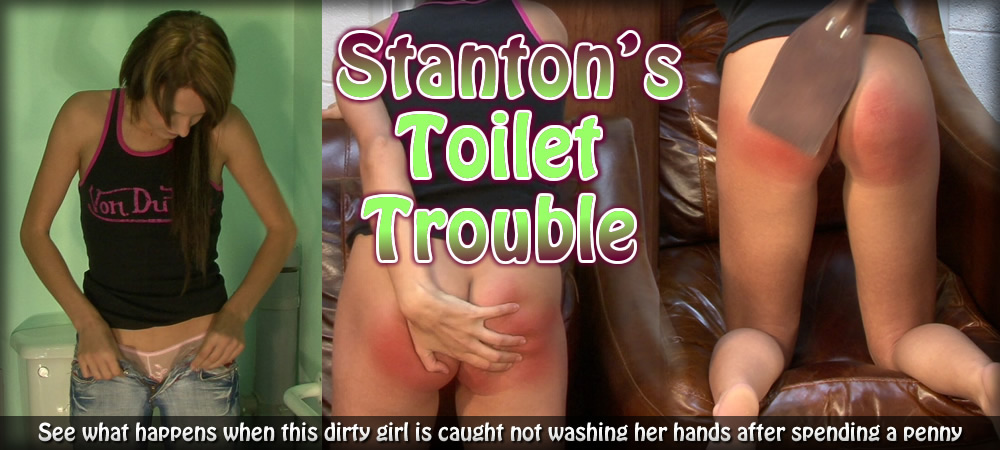 Heather Stanton is a cocky arrogant individual who her new boss is only beginning to realize as she interrupts his first appraisal meeting with her by going to the toilet! However, she doesn't flush the pan, then raises her eyes again when she is further chastised for not washing her hands. He's far from impressed and if she really wants this job her attitude should change and change quickly! Unfortunately for Miss Stanton, he is one of the "Old Guard" who prefers to deal with insolence and mischief in the workplace the old fashioned way by giving the girls some good hard bare bottom correction! Heather is secretly desperate to keep her new job so agrees to remove her pretty knickers and take a spanking over his knee followed by a hard strapping -properly reminding her of her place! Hear Heather sniff and sob and watch her bottom turning redder as her punishment starts to work making her more compliant! Now you can download & keep this Heather Stanton workplace Collector's Edition today!
===============================================
LEGAL DISCLAIMER – ALL MODELS ON THIS SITE ARE OVER THE AGE OF 18 (EIGHTEEN)

This Site deals with Adult School Dress Fantasy only. This Site DOES NOT portray any models who appear to be
under the legal age of 18 (EIGHTEEN). All models depicted in this web site were & are OVER THE AGE OF 18 (EIGHTEEN).
Content within this Site is for viewing by ADULTS over the age of 18 only - NO PERSONS ON THIS SITE
WERE UNDER THE AGE OF 18 (EIGHTEEN) at the time of Production of All ADULT material held in this Site.

THIS SITE IS AGAINST ALL FORMS OF CHILD ABUSE!
===============================================