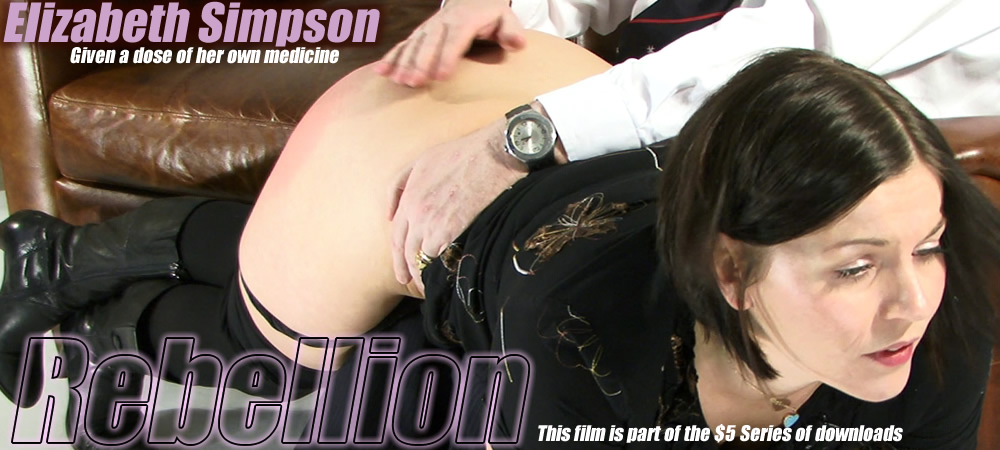 It's Elizabeth's "Time of the Month" and her hormones are making her unbearable to live with! Hubby is far from impressed with her nasty attitude, snappy replies and slovenly appearance he'd not expect from his Missus! Seeing
as standards are slipping, Elizabeth is given a good spanking over his lap! Even her thick 40 Denier tights don't escape a mocking as she is given a sound spanking on her bared buttocks! This movie is dedicated to long suffering husbands and partners of those hormonal ladies everywhere that think a few days a month there's an excuse to make everyone else's life a living hell... well no more, enough is enough! This movie is part of a range of best value films to download & keep, carefully chosen by our team to ensure you have the best movies at the best possible price. To keep our prices as low as possible this download only contains the actual movie without the usual image set - This is #6 of 10 priced at just $5.00 to give you the choice of what to add to your growing Spanking Library!
===============================================
LEGAL DISCLAIMER – ALL MODELS ON THIS SITE ARE OVER THE AGE OF 18 (EIGHTEEN)

This Site deals with Adult School Dress Fantasy only. This Site DOES NOT portray any models who appear to be
under the legal age of 18 (EIGHTEEN). All models depicted in this web site were & are OVER THE AGE OF 18 (EIGHTEEN).
Content within this Site is for viewing by ADULTS over the age of 18 only - NO PERSONS ON THIS SITE
WERE UNDER THE AGE OF 18 (EIGHTEEN) at the time of Production of All ADULT material held in this Site.

THIS SITE IS AGAINST ALL FORMS OF CHILD ABUSE!
===============================================