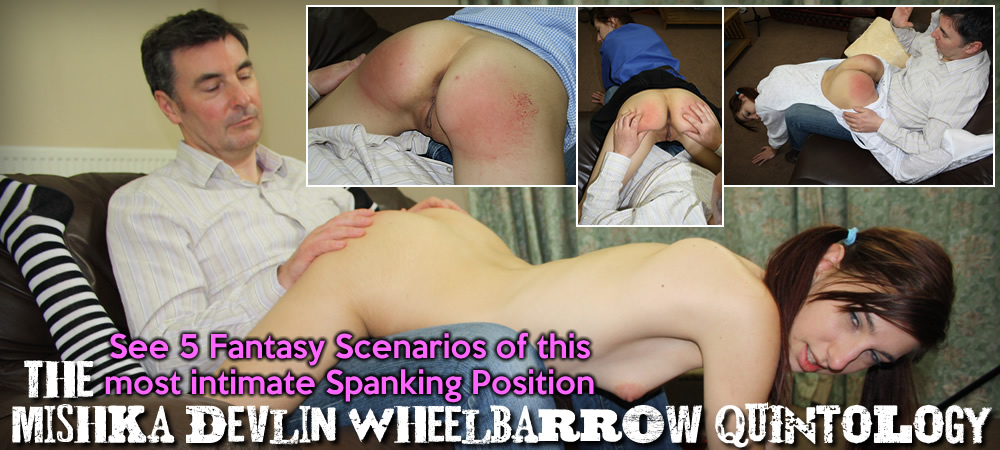 Mishka Devlin only ever worked with one English Spanking Company - but the films she made with them were outstanding and she soon retired from The Scene which was a great loss as she had the perfect girl next door look without ever being shy. This enabled this fantasy series to be born and spawn a whole series of further intimate spanking re-enactments with other girls. But this producer will always remember the first time this collaberation took place. You will see 5 different scenarios of Mishka in the now infamous "Wheelbarrow Position" as she was spanked as the girl next door, in her dropseats PJs, in a girl guides uniform, as a schoolgirl and in some very sexy stripey socks and wearing nothing else! 2 cam angles show the spankings in intimate detail from the spanker's view and also as a general view so we see how she is spanked intimately! This is your chance to download the complete 30 minute HD film for the very first time at this special low price in either MP4 or WMV formats!
===============================================
LEGAL DISCLAIMER – ALL MODELS ON THIS SITE ARE OVER THE AGE OF 18 (EIGHTEEN)

This Site deals with Adult School Dress Fantasy only. This Site DOES NOT portray any models who appear to be
under the legal age of 18 (EIGHTEEN). All models depicted in this web site were & are OVER THE AGE OF 18 (EIGHTEEN).
Content within this Site is for viewing by ADULTS over the age of 18 only - NO PERSONS ON THIS SITE
WERE UNDER THE AGE OF 18 (EIGHTEEN) at the time of Production of All ADULT material held in this Site.

THIS SITE IS AGAINST ALL FORMS OF CHILD ABUSE!
===============================================