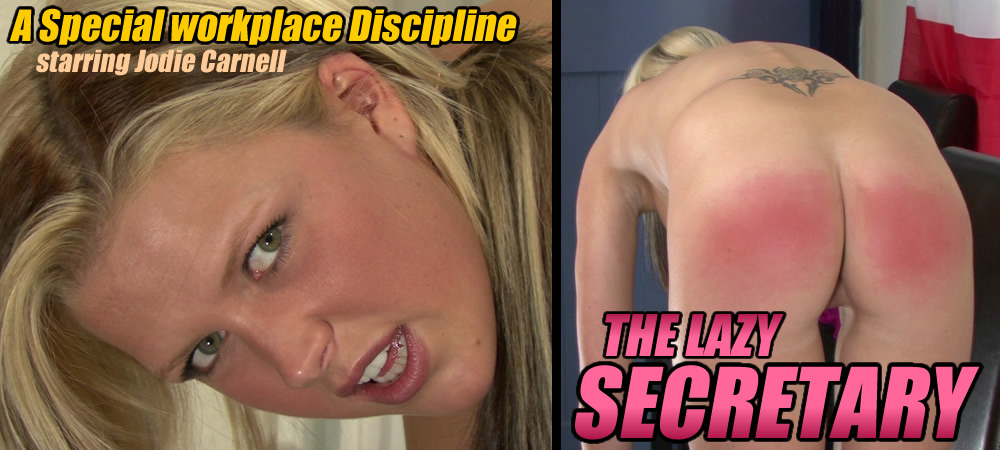 Beautiful Jodie has been in her new job less than a week & thinks her stunning looks can flatter & get her what she wants as she is a naturally lazy young madam! Well, her boss has other plans when he catches her again slacking off work & this time her beauty goes against her as he lusts after seeing her naked & being a hardened spanko - He's going to punish her or kick her out! He knows she is actually desperate to keep her job during these harsh economic times & Jodie thinks she'll be able to tough it out and take the punishment! So the scene is set!

She thinks it's easy when she is stripped & over his knee, but her attitude needs some proper correction so her Boss brings out the strap AND the cane to try on her warmed up pert bottom! Jodie isn't so cocky anymore as she
is placed in a humiliating position over the chair with both leather then rattan tasting her soft flesh! This is your chance to download a stunning visual spanking punishment with one of the UK's best looking spanking stars! This full length movie comes with a complete set of video images to add to your Collectors Edition Spanking Library!
===============================================
LEGAL DISCLAIMER – ALL MODELS ON THIS SITE ARE OVER THE AGE OF 18 (EIGHTEEN)

This Site deals with Adult School Dress Fantasy only. This Site DOES NOT portray any models who appear to be
under the legal age of 18 (EIGHTEEN). All models depicted in this web site were & are OVER THE AGE OF 18 (EIGHTEEN).
Content within this Site is for viewing by ADULTS over the age of 18 only - NO PERSONS ON THIS SITE
WERE UNDER THE AGE OF 18 (EIGHTEEN) at the time of Production of All ADULT material held in this Site.

THIS SITE IS AGAINST ALL FORMS OF CHILD ABUSE!
===============================================