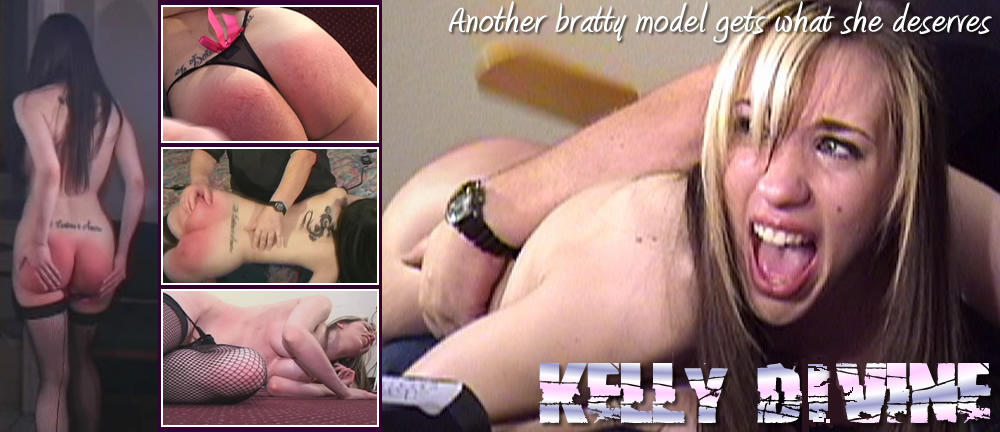 Miss Divine was a very naughty girl as has been evidenced by some very immodest &, yes, even scandalous behavior exhibited by her on a plethora of rude websites. This girl was also very easy on the eyes. Miss Divine's real claim to fame was her simply outstanding bubble butt! When confronted with an admittedly & unabashedly wicked young woman whose primary claim to fame was the allure of her backside it was like honey to a bear for the Mystery Spanker! No doubt the reality of soundly thrashing this notorious bottom had fully matched his expectations as was further exhibited by the enthusiasm, indeed the sheer ferocity, with which he now acquitted himself. Kelly acted like a fragile, glass bottomed princess who had never had her hindquarters properly chastised before! She most probably had not... this was all just too good to be true! Maximizing each & every moment, his target were the bouncing, jiggling & juddering globes as they seemed to inflame him all the more with each passing "thwack!" Then he reached for his trusty wooden "slut slapper", if ever an occassion demanded as much, this was that moment. The loud meaty slaps now took on a higher & demonstrably more menacing pitch accompanied by Miss Divine's loud sobbing & with tears rolling down her cheeks this movie makes for an unmissable punishment & comes highly recommended!
===============================================
LEGAL DISCLAIMER – ALL MODELS ON THIS SITE ARE OVER THE AGE OF 18 (EIGHTEEN)

This Site deals with Adult School Dress Fantasy only. This Site DOES NOT portray any models who appear to be
under the legal age of 18 (EIGHTEEN). All models depicted in this web site were & are OVER THE AGE OF 18 (EIGHTEEN).
Content within this Site is for viewing by ADULTS over the age of 18 only - NO PERSONS ON THIS SITE
WERE UNDER THE AGE OF 18 (EIGHTEEN) at the time of Production of All ADULT material held in this Site.

THIS SITE IS AGAINST ALL FORMS OF CHILD ABUSE!
===============================================