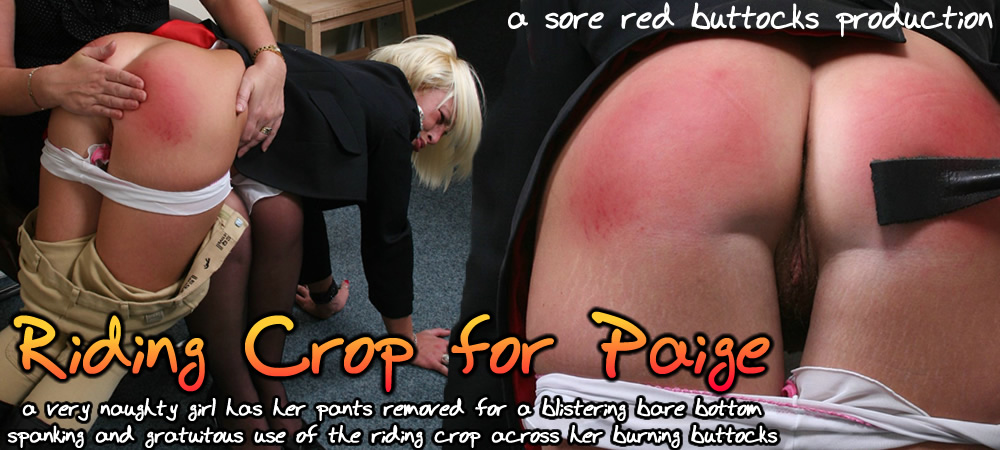 Paige is a slut that can never resist playing with herself to relieve that horny itch between her legs, so when she has a moment alone away from the stables, she dips her fingers into her panties & starts to rub off her swollen labia! Then, just as she's starting to bring herself off she's disturbed by a very shocked & disgusted Miss Bradley who decides to thrash this silly nonsense out of her taking her over the knee for a good hard bare bottom spanking! Unfortunately for Paige, Miss Bradley eyes up the riding crop & decides that these warmed reddened buttocks are ideal for a whipping with this leather instrument! Paige's sore bottom is barely able to take much more as she cries out in pain! Download this long play movie of a very satisfying punishment of a very naughty girl!
===============================================
LEGAL DISCLAIMER – ALL MODELS ON THIS SITE ARE OVER THE AGE OF 18 (EIGHTEEN)

This Site deals with Adult School Dress Fantasy only. This Site DOES NOT portray any models who appear to be
under the legal age of 18 (EIGHTEEN). All models depicted in this web site were & are OVER THE AGE OF 18 (EIGHTEEN).
Content within this Site is for viewing by ADULTS over the age of 18 only - NO PERSONS ON THIS SITE
WERE UNDER THE AGE OF 18 (EIGHTEEN) at the time of Production of All ADULT material held in this Site.

THIS SITE IS AGAINST ALL FORMS OF CHILD ABUSE!
===============================================