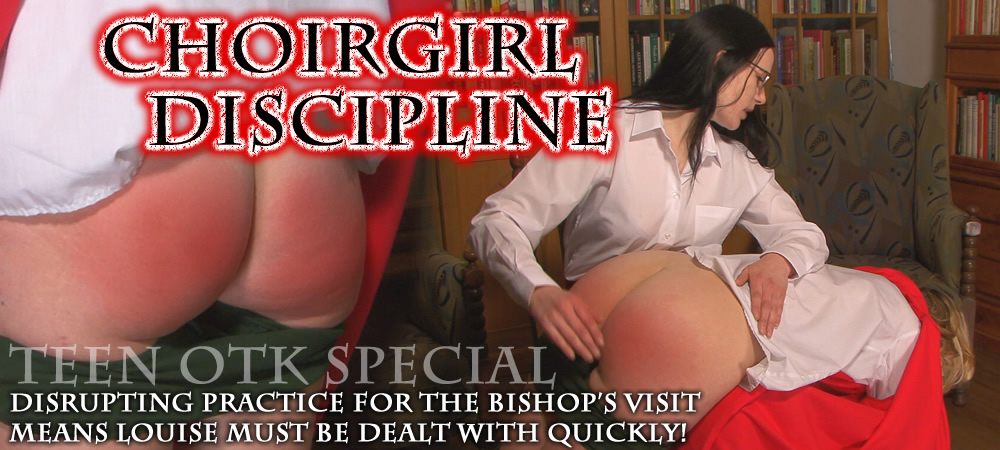 Louise had been disrupting the important choir practice yet again with her rude behaviour and lack of respect for the important visit of the Bishop to their church. At just 18 years old, she thought she knew it all and had an alarming lack of respect for her elders! Time to put this madam in her place - and quickly! She was summoned to Miss McCormack's Study & Louise could offer no real explanation for her bad behaviour. She is taught that a sore red bottom might just remind her to watch her mouth & manners in future! See Louise bent over Miss McCormack's knee, her bared plump bottom wobbling in shame as it's spanked until a deep shade of humiliating red!
===============================================
LEGAL DISCLAIMER – ALL MODELS ON THIS SITE ARE OVER THE AGE OF 18 (EIGHTEEN)

This Site deals with Adult School Dress Fantasy only. This Site DOES NOT portray any models who appear to be
under the legal age of 18 (EIGHTEEN). All models depicted in this web site were & are OVER THE AGE OF 18 (EIGHTEEN).
Content within this Site is for viewing by ADULTS over the age of 18 only - NO PERSONS ON THIS SITE
WERE UNDER THE AGE OF 18 (EIGHTEEN) at the time of Production of All ADULT material held in this Site.

THIS SITE IS AGAINST ALL FORMS OF CHILD ABUSE!
All model records are held on file for inspection
===============================================