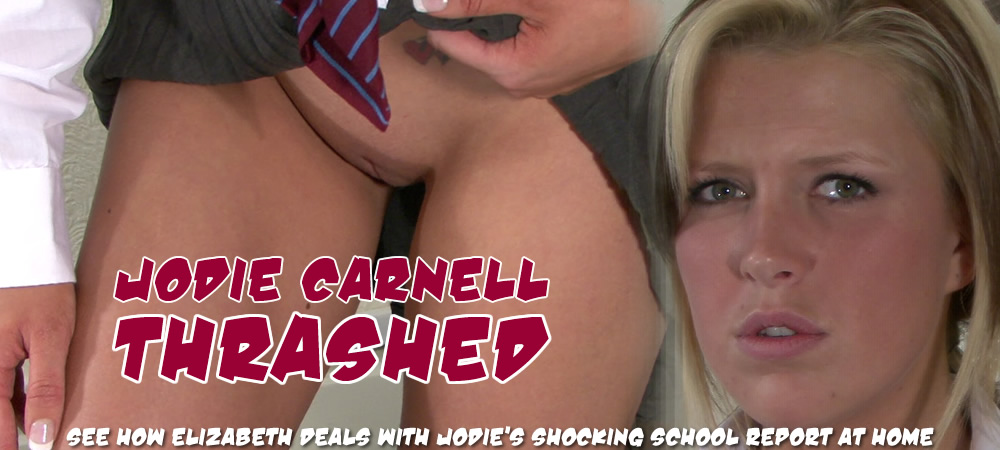 Teenager Jodie has been hiding a secret about her poor school work and what she doesn't know is that Elizabeth Simpson has already been informed by Head of Year just how bad it has become! Elizabeth is naturally angry as she feels this reflects on her so not long after Jodie skips in she's told to wait in the Study! Jodie is obviously worried & her worst fears are confirmed when she's given the news she'd hope Elizabeth would never find out! What you'll witness in the next 15 minutes is a rather humiliating, stinging punishment of Jodie as she is placed over stern Elizabeth's knee for a spanking then told to strip off & the last part of her Discipline she's shivering, naked, bent over for the nasty rubber soled white plimsol - Jodie's most hated punishment instrument, The Slipper! This full length movie comes with a complete set of video images to add to your Collectors Edition Spanking Library!
===============================================
LEGAL DISCLAIMER – ALL MODELS ON THIS SITE ARE OVER THE AGE OF 18 (EIGHTEEN)

This Site deals with Adult School Dress Fantasy only. This Site DOES NOT portray any models who appear to be
under the legal age of 18 (EIGHTEEN). All models depicted in this web site were & are OVER THE AGE OF 18 (EIGHTEEN).
Content within this Site is for viewing by ADULTS over the age of 18 only - NO PERSONS ON THIS SITE
WERE UNDER THE AGE OF 18 (EIGHTEEN) at the time of Production of All ADULT material held in this Site.

THIS SITE IS AGAINST ALL FORMS OF CHILD ABUSE!
===============================================