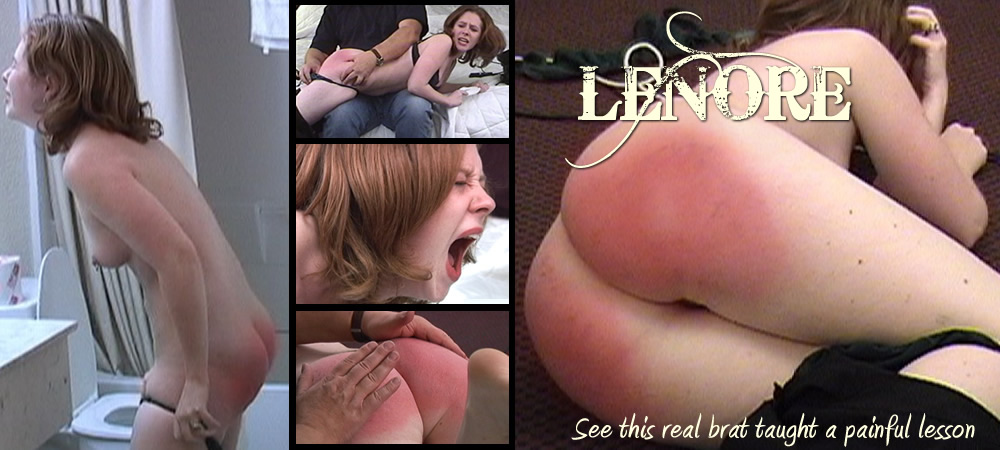 The first mistake this cute little fire bush made was in arriving late. She then compounded her error by showing herself to be the quintessential whiny "valley girl" and bombarding our photographer with an endless barrage of petty complaints. Given Lenore's distinctly sour disposition, we thought it appropriate to provide the young lady with a more proportional stimulus for her unremitting negativity.
The loud smacking sound elicited from our man's hard swung palm greeted our ears like sweet, sweet music. Within moments however that most welcome cadence was all but drowned out in a crescendo of high pitched screams and squeals. More annoying still, Lenore's vocals served to showcase some very unladylike language!
In spite of our man's best efforts, or perhaps more accurately as a direct result of the same, Lenore's vocabulary got rather worse after a while longer. That's when our man thought it fitting to remove her last tangible pretense at modesty and administer a classic bare bottom spanking. Freed from all restraint, Lenore's naked ass cheeks dance with maddening abandon beneath his leering gaze. You will become entranced as our man with this bawdy lap dancing that Lenore's eventual contrite pleas went un-noticed. As did her tears! Don't miss this chance to download this mega spanking movie to add to your increasing library of tearful brats being spanked... really hard!
===============================================
LEGAL DISCLAIMER – ALL MODELS ON THIS SITE ARE OVER THE AGE OF 18 (EIGHTEEN)

This Site deals with Adult School Dress Fantasy only. This Site DOES NOT portray any models who appear to be
under the legal age of 18 (EIGHTEEN). All models depicted in this web site were & are OVER THE AGE OF 18 (EIGHTEEN).
Content within this Site is for viewing by ADULTS over the age of 18 only - NO PERSONS ON THIS SITE
WERE UNDER THE AGE OF 18 (EIGHTEEN) at the time of Production of All ADULT material held in this Site.

THIS SITE IS AGAINST ALL FORMS OF CHILD ABUSE!
===============================================