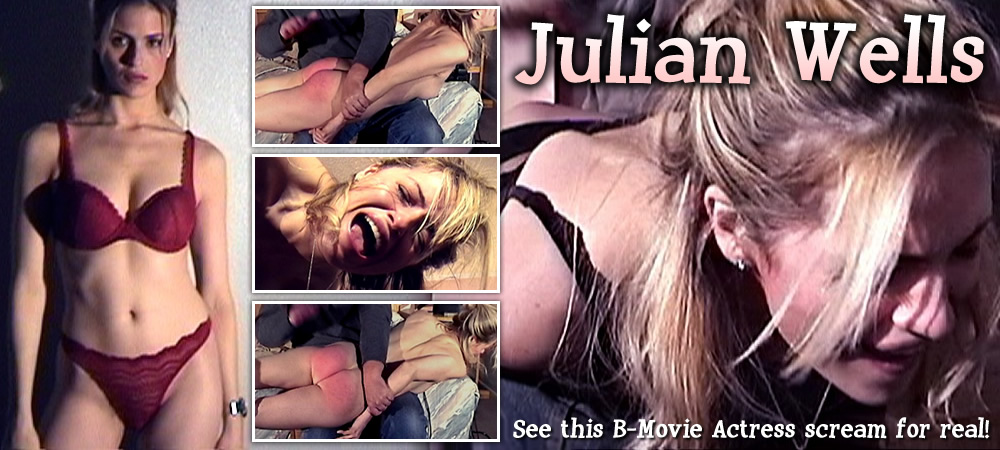 There are few activities in this life quite so exhilarating as that of using the flat of one's hand to robustly thrash the bouncing bare butt cheeks of a ravishingly beautiful femme fatale... even if she only plays one on the Big Screen. Julian is a B-Movie actress, a "scream queen" if you will, & as such she has played the role of a good
many fictional women including some decidedly dangerous ones. She's not really a femme fatale though, or at least not necessarily so, but she is very easy on the eyes. Moreover, the lady has a simply outstanding derrière &
if that ain't reason enough to tear off those panties & give her the spanking of a lifetime, we don't know what is!
Hey, odds are she's probably done something "bad" at some point, somewhere, anyway... right?
===============================================
LEGAL DISCLAIMER – ALL MODELS ON THIS SITE ARE OVER THE AGE OF 18 (EIGHTEEN)

This Site deals with Adult School Dress Fantasy only. This Site DOES NOT portray any models who appear to be
under the legal age of 18 (EIGHTEEN). All models depicted in this web site were & are OVER THE AGE OF 18 (EIGHTEEN).
Content within this Site is for viewing by ADULTS over the age of 18 only - NO PERSONS ON THIS SITE
WERE UNDER THE AGE OF 18 (EIGHTEEN) at the time of Production of All ADULT material held in this Site.

THIS SITE IS AGAINST ALL FORMS OF CHILD ABUSE!
===============================================