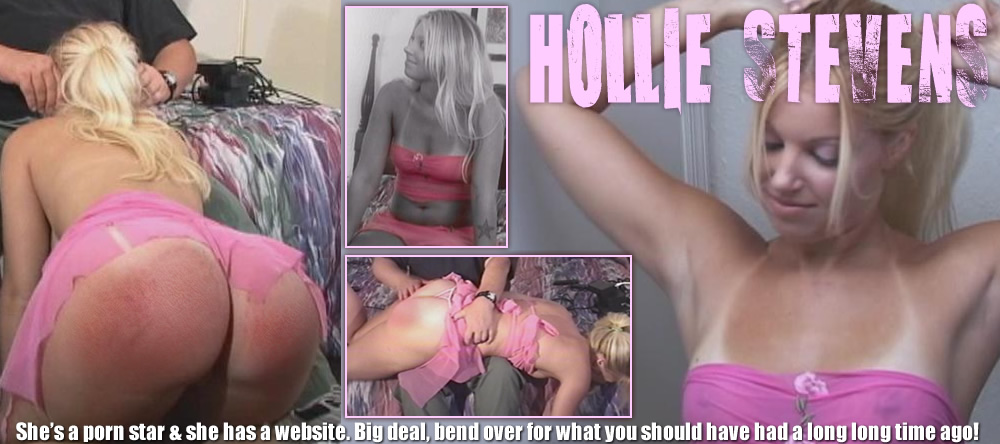 Adult film star Hollie Stevens was in a very cranky mood. This young "madam" was particularly displeased with the photographer from whom she expected more "professionalism". Well... having starred in such cinematic milestones as "Built for Sex II", "Ultimate Asses III" & other works too numerous to list here, Miss Stevens felt that she should be treated appropriately. So The Mystery Spanker was called in to rectify the situation & he was simply delighted to be given this opportunity to set things right! Spanking a bouncing bare bottom of an arrogant & pretentious 20 year old slut, like Hollie, was not only an immensely enjoyable act but a uniquely rewarding one as well. Well, that was how he later explained the more than usual vehemence with which he acquitted himself. It would certainly be no exaggeration to say that the man quite literally attacked Hollie's soft, smooth bottom with unrestrained glee & devastating impact. A relentless rain of pain fell on this most deserving & mouthwatering of surfaces. Miss Steven's evident distress, bordering now on hysteria, couldn't help but bring a smile to his face as he dealt with this most shameless strumpet. This film won't insult your intelligence by suggesting that this exlemplatory thrashing had
any lasting redemptive effect on the young tart, but it sure felt good to carry it out at the time! As you'll see!
===============================================
LEGAL DISCLAIMER – ALL MODELS ON THIS SITE ARE OVER THE AGE OF 18 (EIGHTEEN)

This Site deals with Adult School Dress Fantasy only. This Site DOES NOT portray any models who appear to be
under the legal age of 18 (EIGHTEEN). All models depicted in this web site were & are OVER THE AGE OF 18 (EIGHTEEN).
Content within this Site is for viewing by ADULTS over the age of 18 only - NO PERSONS ON THIS SITE
WERE UNDER THE AGE OF 18 (EIGHTEEN) at the time of Production of All ADULT material held in this Site.

THIS SITE IS AGAINST ALL FORMS OF CHILD ABUSE!
===============================================